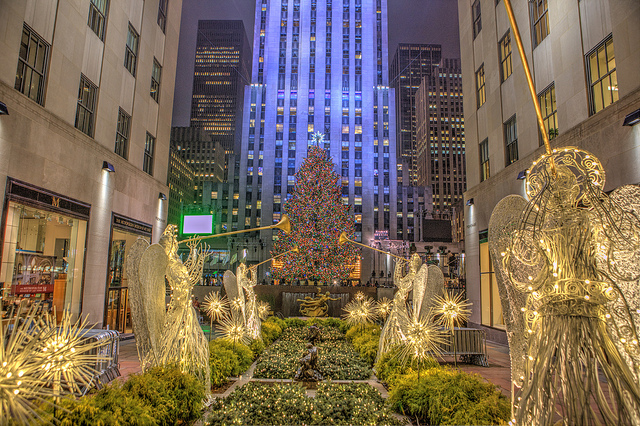 The King of Christmas Trees – NYC Style
If you didn't already know, the lighting of the Rockefeller Center Christmas Tree, is sort of a big deal in New York City. It's a feel-good event that warms the very heart of the city and our nation regardless of personal political view or religion. The 2016 tree was lit for the first time on Wednesday, November 30
th
at Rockefeller Plaza. As always, the tree will remain lit and on display at the plaza, between West 48th and 51st Streets and Fifth and Sixth Avenues, until January 7
th
.
For the last 84 years, thousands of warmly clad onlookers have crowded the sidewalks for this event and millions watch the live broadcast, which is right up there with the Macy's Day Parade for Thanksgiving when it comes to TV viewer popularity. Visiting hours are daily from 5:30am to 11:30pm through 9pm on the 7th of January.
For more than eight decades the Christmas tree at Rockefeller Center and the holiday decorations adorning and surroundings it have stood as a holiday beacon for New Yorkers and visitors alike. From the beginning, the tree was a gathering place for reflection of what was happening in the world around it. Today, more than half a million people pass by the tree every day, making Rockefeller Center the epicenter of New York City's holiday celebrations.
Whether you are a permanent resident of the "City that Never Sleeps", just a commuter, or don't even have a New York license plate, here are some interesting facts about the King of Christmas Trees you may not have known.
For the tenth year in a row, the 2016 Christmas Tree will be donated to Habitat for Humanity. Once the holidays have passed and the crowds have dispersed, the tree comes down and is milled, treated and made into lumber that is used for home building.
The Rockefeller Center Christmas Tree continues to be a symbol of hope, and inspired the children's book, "The Carpenter's Gift," written by David Rubel and illustrated by Jim LaMarche in collaboration with Habitat for Humanity.
People from around the world came after September 11th to see the tree decorated in a patriotic red, white and blue.
In December 1931, demolition workers at the Rockefeller Center construction site pooled their money together to buy a Christmas tree. The 20-foot high balsam fir was decorated with handmade garlands by the men's families. The archive photo shown, (taken on Christmas Eve), shows workmen lined up to receive their wages. The origin of the first 20 feet tall tree is not on record.
World War II ushered in an era of simple and patriotic designs, including red, white and blue unlit globes and painted wooden stars. In 1942, no materials essential to the war effort were used to decorate the Center and instead of one large tree, three more modest trees were raised. From 1942 until the end of the war, the trees went unlit each year due to black-out regulations.
In 1969, Valerie Clarebout's triumphant and towering wire angel figures debuted in the Channel Gardens. She created the twelve sculptures using seventy-five points of metal wire each. Valerie Clarebout passed away in 1982 at the age of seventy-four, but her legacy lives on in her endearing gift to New York City.
1999 Christmas was the largest tree in Rockefeller Center's history. Hailing from Killingworth, Connecticut, the tree stood at 100 feet tall.
Until his death in 2009, the late David Murbach, Manager of the Gardens Division of Rockefeller Center, scouted desired trees from upstate New York and surrounding states, even from Ottawa, Canada.
Since then the trees are scouted by Erik Pauzé, Head Gardener at Rockefeller Center. Visiting nurseries throughout the tri-state area while keeping his eye out for one-of-a-kind backyard trees.
Today trees may also be submitted for consideration through Rockefeller Center's web site. Pauzé and his team choose each year's tree based on its heartiness and "Christmas tree shape," as well as its ability to support the heavy ornaments.
Once at Rockefeller Center, the tree is secured with four guy-wires attached at its midpoint and by a steel spike at its base. Scaffolding is used to assist workers hanging about 50,000 multi-colored LED lights and the top star.
The crystal star has topped the tree since 2004 and is 9.5 feet in diameter and weighs 550 pounds. The "Swarovski Star," which contains 25,000 Swarovski crystals, 1 million facets, and LED lights, was created by German artist Michael Hammers.
The 2016 tree, (a Norway Spruce from Oneonta, NY), at 94 feet high, is the second tallest ever erected at Rockefeller Center. It is 56 feet wide and according to construction crews, weighs over 30,000 pounds. The tree is the widest and heaviest to date.
When, Where, What and How Big — A 28 Tree History
Year From Tree Type Height
2016 Oneonta, NY Norway spruce 94 ft
2015 Gardiner, NY Norway spruce 78 ft
2014 Danville, PA Norway spruce 85 ft
2013 Shelton, CT Norway spruce 76 ft
2012 Flanders, NJ Norway spruce 80 ft
2011 Mifflinville, PA Norway spruce 74 ft
2010 Mahopac, NY Norway spruce 74 ft
2009 Easton, CT Norway spruce 76 ft
2008 Hamilton, NJ Norway spruce 72 ft
2007 Shelton, CT Norway spruce 84 ft
2006 Ridgefield, CT Norway spruce 88 ft
2005 Wayne, NJ Norway spruce 74 ft
2004 Suffern, NY Norway spruce 71 ft
2003 Manchester, CT Norway spruce 79 ft
2002 Bloomsbury, NJ Norway spruce 76 ft
2001 Wayne, NJ Norway spruce 81 ft
2000 Buchanan, NY Norway spruce 80 ft
1999 Killingworth, CT Norway spruce 100 ft
1998 Richfield, OH Norway spruce 75 ft
1997 Stony Point, NY Norway spruce 70 ft
1996 Armonk, NY Norway spruce 90 ft
1995 Mendham, NJ Norway spruce 75 ft
1994 Ridgefield, CT Norway spruce 85 ft
1986 Nanuet, NY Norway spruce 68 ft
1980 Mahwah, NJ Norway spruce 70 ft
1978 Mahwah, NJ Norway spruce 75 ft
1963 Rockaway, NJ Bruce Fir 84 ft
1957 Brighton, VT white spruce 67 ft
Historical Photography courtesy of rockefellercenter.com, the Photo of the 2016 tree is by Michael Vadon.