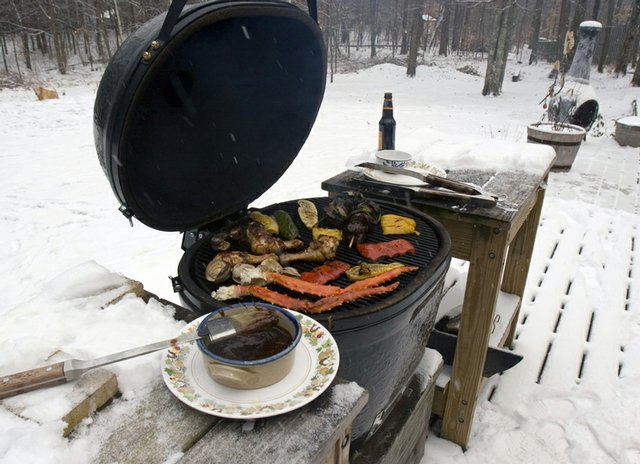 Winter-Que
I've never really bought into the idea that cooking food outside on the grill is a seasonal thing. Just because there's some snow on the back porch does not mean you should deny your taste buds that flavorful delight that a good BBQ meal brings. Throwing a late year get-together barbecue (or a Winter-Que as I refer to it) with some close friends, is an exciting way to satisfy appetites and have fun in the process. So why not embrace it in the winter months? I look at December, January and February as great opportunities to spice up your dinner time and enjoy some wholesome recipes.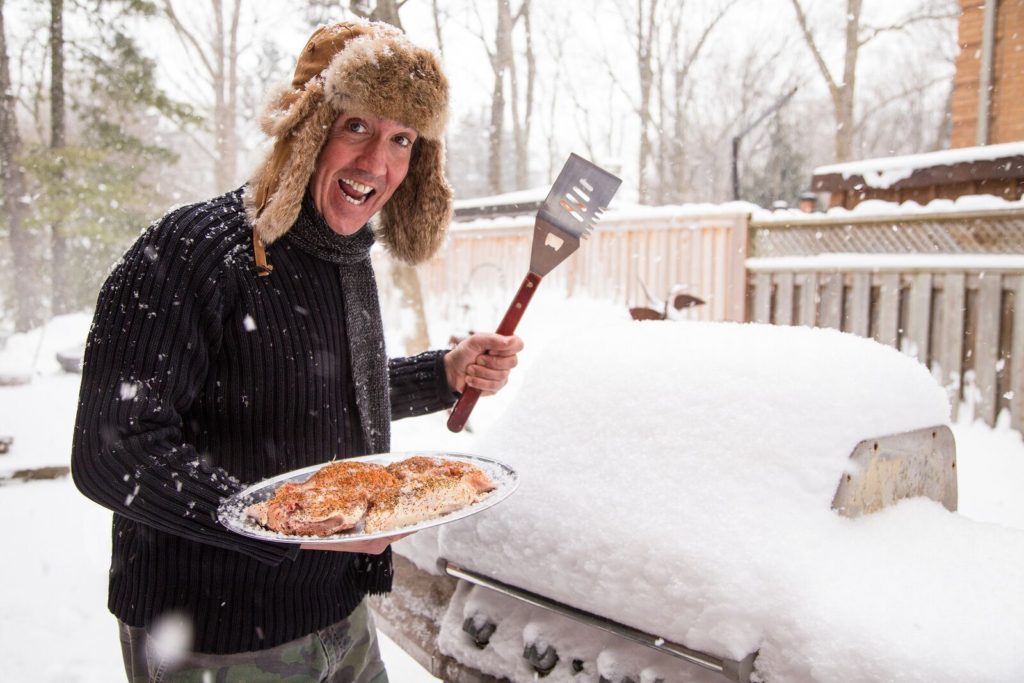 Here are some top tips to ensure your winter BBQ is a sizzling success:
Before you head outside, make sure you're dressed warmly. You'll be handling platters, tongs and other BBQ cutlery so try some fingerless gloves instead of mittens. Don't forget to wear a hat or even a scarf over your coat.
Something we enjoy is to have a small bonfire nearby on those really cold nights. If that's not enough, set up a table and some snacks and warm drinks. Who says the cook is the only one who has to be outside while the meat is coming up to temperature?
An obvious part of winter barbecuing (or anytime really), is to make sure you clean and prepare your barbecue in advance. For old school BBQers, have enough charcoal and lighter fluid on hand along with those cool extra-long wooden matches. If you have a nice stainless steel gas grill, make sure the tank is full. And of course always have a fire extinguisher handy just in case. These are all easy to overlook and the last thing you want to suffer is a delay while your friends are waiting for you to get your act together.
Also, be sure to adjust your schedule. Allow enough time for the barbecue to get going and the temps to be right before you start cooking. Prepare all the side dishes ahead of time and have them ready to go as soon as the meat arrives.
A big tip here is to keep the top down. With the colder air temps, keep your lid up time to a minimum. You'll have to change your game plan in the winter so, be sure to keep the heat in!
KISS Principal: It is especially important when the temps outside are down around freezing, to keep your BBQ choices simple. Dogs and burgers are great, quick and easy picks and you can also add sausages with grilled onions and peppers to the list – everyone loves these classics. But if you're pulling out all the stops, then bring out the steaks. Just be sure to keep them all about the same size and thickness so they cook at the same rate. And, to make them extra delicious and juicy, consider using a digital temperature probe.
Place your steaks on the grill and cook until golden brown and slightly charred, this takes about 4 to 5 minutes with a medium flame and the lid closed. Then turn the steaks over and continue to grill the second side for 3 to 5 minutes. For medium-rare, check the digital probe, you should have an internal temperature of 135 degrees F. For medium use 5 to 7 minutes (140 degrees F), and for medium-well use 8 to 10 minutes, (150 degrees F.). And don't keep playing with them, just flip them over and close the lid again. The char marks are very important, it's all part of the presentation of any good piece of barbequed meat.
Of course the time required to cook a nice piece of steak all depending on its thickness, and how you prefer it. But please, don't be tempted to cut into your steak to see if it's done. This only lets the juices escape and tends to make the meat tough. If you don't have a temperature probe, press the center of your steak with the back of your tongs—if it's medium the meat will spring back.
Tongs test
Rare – soft
Medium – slightly firmer and springy
Well done – very firm with no spring back
Finally, don't get carried away outside with the whole BBQ thing. Unless you live at a ski lodge, head indoors so everyone can eat your amazing barbecued feast in the warmth of your home! Cooking the food outdoors is the fun part and having friends keep you company while the food is prepared adds the magical part of this experience. Depending on how cold it is, you'll definitely want to head inside to eat all the great food. After all, even if you don't have a bonfire, you and your friends can always venture back outside to toast up some marshmallows over the BBQ or enjoy some mugs of hot chocolate (or hot toddies), to finish off your perfect winter barbecue. And of course, to show winter that your BBQing fun won't be detoured, get into a fun mood with some music. Instead of Jingle Bells, play something warm by Jimmy Buffett! You get the idea, something with a tropical flavor!